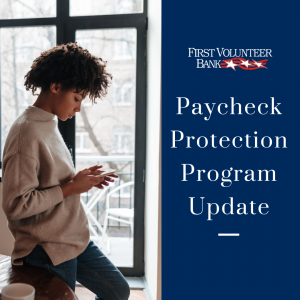 January 19, 2021: The Small Business Administration has now begun accepting Paycheck Protection Program (PPP) loan applications.
First Volunteer Bank was proud to have helped our area small businesses by participating in the initial round of the Paycheck Protection Program. We will continue to support our small businesses and their owners by accepting applications for the second round of PPP funding on both First Draw and Second Draw PPP Loans.
The Paycheck Protection Program (PPP) provides loans to help businesses keep their workforce employed during the Coronavirus (COVID-19) crisis. SBA is currently offering:
For additional information please contact your local banker or our Customer Care Center (866) 668-4700.
You can also visit the Small Business Administration website by clicking this link Paycheck Protection Program (sba.gov) for further qualification guidelines, loan details, first draw or second draw applications and forgiveness information.